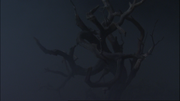 The Abandoned Mine is an old derelict mine, on the main line loop. It is located between Killaban and Cabalnoo.
It only appeared in the ninth season episode, Flour Power when Diesel and Thomas were passing the mines on their way to the flour mill, they heard a banging noise and Diesel teased Thomas that it was a ghost train making the noise. When Thomas was pulling his train of flour, Thomas released that it was a door and that the wind was making it bang.
Gallery
Ad blocker interference detected!
Wikia is a free-to-use site that makes money from advertising. We have a modified experience for viewers using ad blockers

Wikia is not accessible if you've made further modifications. Remove the custom ad blocker rule(s) and the page will load as expected.