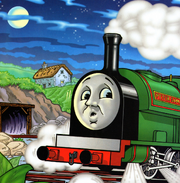 The Abandoned Mine and Cottage are located on the Skarloey Railway. Their exact whereabouts are unknown, but they seem to be located somewhere near the Top Station. Two thieves once used the cottage as a hideout after robbing Wellsworth Bank. Peter Sam found them and the police swiftly arrested them. Peter Sam thinks the location is quite spooky at nights.
The abandoned mine and cottage only appeared in the 2004 magazine story, Proud Puffer.
Gallery
Ad blocker interference detected!
Wikia is a free-to-use site that makes money from advertising. We have a modified experience for viewers using ad blockers

Wikia is not accessible if you've made further modifications. Remove the custom ad blocker rule(s) and the page will load as expected.