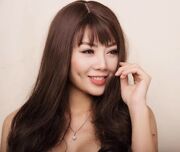 Thanh Huống is a Vietnamese voice actress who does voices in the Vietnamese dub of Thomas and Friends. She also wrote the lyrics to the Vietnamese translation of the Engine Roll Call.
Voices
"Welcome to the Steamworks, my friend!"

This article is a stub. You can help by expanding it.