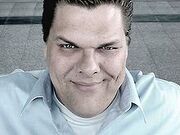 Tetje Mierendorf (born April 18th, 1972 in Hamburg) is a German comedian and voice over artist. He voices some characters in the German dub of Thomas & Friends.
Voices
Trivia
He, Holger Mahlich, Thomas Fritsch, Dirk Bach, Patrick Bach, Robin Brosch, Sascha Draeger, Konstantin Graudus, Eberhard Haar, Fabian Harloff, Lutz Herkenrath, Till Huster, Henry König, Helmut Krauss, Martin May, Robert Missler, Sky Du Mont, Renate Pichler, Christian Rudolf, Tobias Schmidt, Rainer Schmitt, Achim Schülke, Christian Stark, Bernd Stephan, Manfred Steffen, Marion von Stengel, Peter Weis, Andreas von der Meden, Wolfgang Hartmann, Sabine Hahn, Thorsten Weber, Eckart Dux and Santiago Ziesmer appeard in "The Three Investigators".
He, Jan-David Rönfeldt, Konstantin Graudus, Tobias Schmidt, Anne Moll, Jürgen Holdorf, Burkhard Schmeer, Holger Mahlich, Robert Missler, Joshy Peters, Sonja Stein, Oliver Böttcher, Sascha Draeger, Achim Buch, Daniel Montoya, Achim Schülke, Robert Kotulla, Simona Pahl, Oliver Warsitz, Marios Gavrilis, Wolfgang Hartmann and Christos Topoulos had roles in "The Knick".
Mierendorf, Kai-Henrik Möller, Michael Bideller, Moll, Jörg Gillner, Missler, May, Volker Hanisch, Holdorf, Robin Brosch, Stephan, Rudolf, Angela Quast, Schülke, Schmeer, Warsitz, Constantin von Westphalen, Mahlich, Margrit Strassburger, Dagmar Dreke, Kotulla, Schmidt, Draeger, Lennardt Krüger, Joey Cordevin, Buch, Pahl, Fabian Harloff, Graudus, Walter Wigand, Stein, Rönfeldt, Weis, Henry König, Stark, Topoulos, Oliver Böttcher, Holger Potzern, Till Huster, Marion von Stengel, Haar, Matthias Klimsa, Marek Erhardt, Erik Schäffler, Klaus Dittmann, Hartmann, Hahn and Patrick Bach had roles in "McLoed's Daughters".
He, Nadine Schreier, Patrick Bach, Henning Nöhren, Sascha Draeger, Rainer Schmitt, Tobias Schmidt, Erik Schäffler, Nils Rieke, Fabian Harloff, Tim Kreuer, Holger Mahlich, Konstantin Graudus, Anne Moll, Volker Hanisch, Joey Cordevin, Kristina von Weltzien, Oliver Böttcher, Jens Wendland, Robin Brosch, Jan-David Rönfeldt, Martin Brücker, Monika Hein, Simona Pahl, Julia Holmes, Christian Stark, Achim Buch, Knud Riepen, Burkhard Schmeer and Katja Brügger voiced for "Dance Academy".
Mierendorf, Diakow, Wendland, Pahl, Haar, von Weltzien, Brügger, Riepen, Grimm and Kotulla provided voices in "Bobby & Bill".
He worked alongside Christian Stark, Marios Gavrilis, Kristina von Weltzien, Martin May, Holger Mahlich, Jürgen Holdorf, Ole Jacobsen, Volker Hanisch, Jennifer Böttcher, Margrit Strassburger, Nils Rieke, Christian Rudolf, Dagmar Dreke, Oliver Böttcher, Benjamin Morik, Patrick Bach and Joey Cordevin on "Reef Doctors".
He, Dirk Bach and Lutz Herkenrath had roles in the 2005 live action comedy version of "Urmel aus dem Eis" while Klaus Sonnenschein had a role in the CGI version.
External links