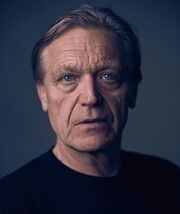 Terje Strømdahl (born in Oslo, Norway on 22 August 1952) was the Norwegian narrator for the sixth season.
In 2015, Terje, along with Trond Teigen, Mari Maurstad, and Tiril Heide-Steen, was interviewed by the Norwegian newspaper "VG" about the criticism Thomas and Friends gets. He states that the whole discussion is nonsense, and that he does not take it seriously.
External Links
"Welcome to the Steamworks, my friend!"

This article is a stub. You can help by expanding it.
Ad blocker interference detected!
Wikia is a free-to-use site that makes money from advertising. We have a modified experience for viewers using ad blockers

Wikia is not accessible if you've made further modifications. Remove the custom ad blocker rule(s) and the page will load as expected.