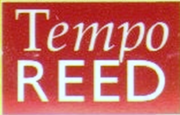 TempoREED released the Railway Series recordings narrated by Ted Robbins from 1994-1995.
They also released many other audiobooks of TV shows and children's stories including: Fireman Sam, Sooty, Rupert Bear, Postman Pat, Spot the Dog, Rosie and Jim, Super Ted, Timmy Time, and Winnie-the-Pooh.
The company later changed its name to Abbey Home Media.
Titles
Releases Gallery
External link