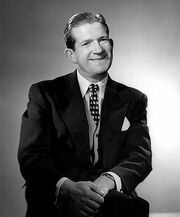 Ted Ray, real name Charles Olden, (November 21st, 1905 - November 8th, 1977) was a popular English comedian of the 1940s, '50s, and '60s.
Ray was born in Wigan, Lancashire. His parents moved to Liverpool within days of his birth and Liverpudlians regard him as a local. As a comedian of the 1940s and 1950s, he demonstrated his ad-libbing skills in his weekly radio show, "Ray's A Laugh", from 1949 until 1961.
Ted narrated some of the Railway Series books for the BBC Children's television series "Jackanory" from September - October 1970.
Ted died at the age of 71 on November 8th, 1977.
Books
Ad blocker interference detected!
Wikia is a free-to-use site that makes money from advertising. We have a modified experience for viewers using ad blockers

Wikia is not accessible if you've made further modifications. Remove the custom ad blocker rule(s) and the page will load as expected.