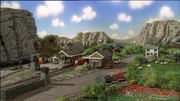 There is a station on the Skarloey Railway where the Refreshment Lady has her Tea Rooms, located west of Lakeside. It is connected to the rest of the railway via the Rocky Ridge Line. There is a small shunting yard at station.
It first appeared in the seventh season and continued making appearances until the tenth season.
Ad blocker interference detected!
Wikia is a free-to-use site that makes money from advertising. We have a modified experience for viewers using ad blockers

Wikia is not accessible if you've made further modifications. Remove the custom ad blocker rule(s) and the page will load as expected.