Taxis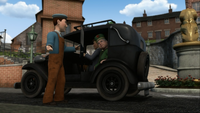 The taxi first made a cameo in the fifth season episode Make Someone Happy to take Mrs. Kyndley to the yard. The taxis have since appeared in the sixth, seventh, tenth, twelfth, fourteenth, and fifteenth seasons.
Basis
Most of the taxis are based on 1936 Austin London Taxis.
Trivia
A slightly different taxi can be seen in the magazine story, Holiday Hat. It has the number plate: PORT 1.
Merchandise
Gallery
Merchandise Gallery