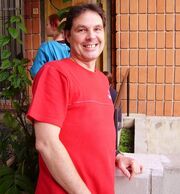 Tatá Guarnieri (born August 26th, 1954) is a Brazilian voice actor who narrated the Brazilian version of Thomas & Friends. He provided narration for the first - fifth seasons and Hero of the Rails onwards.
As a voice actor, he is known for voicing characters in dubs of various films, cartoons, and animes such as Kenshin Himura from "Rurouni Kenshin", Soun Tendo from "Ranma 1/2", Tiger's Eye from "Sailor Moon", Roger Rabbit from "Who Framed Roger Rabbit?", Boo-Boo from "Yogi Bear", and King Julien from "The Penguins of Madagascar". He also regularly dubs for actors such as Jackie Chan, Jet Li, Keifer Sutherland, and Will Ferrell.
Trivia
Ad blocker interference detected!
Wikia is a free-to-use site that makes money from advertising. We have a modified experience for viewers using ad blockers

Wikia is not accessible if you've made further modifications. Remove the custom ad blocker rule(s) and the page will load as expected.