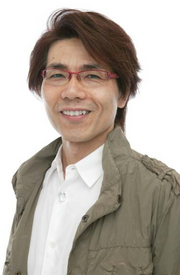 Takeshi Endo (遠藤武, born 27 February 1967 in Niigata Prefecture) is a Japanese voice actor who provided voices for the Japanese version of Thomas & Friends.
He is best known for voicing The Fury from "Metal Gear Solid 3: Snake Eater". He also does voices for "Master Keaton", "Alexander: The Movie", "Aoki Densetsu Shoot!", and "Record of Lodoss War: Chronicles of the Heroic Knight".
Voices
Douglas (second - seventh seasons, excluding Thomas Comes to Breakfast and Thomas and the Special Letter)
Jeremiah Jobling (Daisy only)
Thomas' driver (Thomas and the Guard, Thomas Goes Fishing, Thomas, Terence and the Snow, Thomas and Bertie, Thomas in Trouble, Down the Mine, Thomas' Christmas Party, Thomas and Trevor and Thomas Comes to Breakfast)
Edward's driver (Edward's Exploit)
Henry's driver (The Flying Kipper)
Gordon's driver (Tenders and Turntables)
James's driver (Troublesome Trucks and Dirty Objects)
Percy's driver (Thomas, Percy and the Coal, Percy and Harold, and Jack Frost)
Duck's driver (A Close Shave)
Rheneas' driver (Gallant Old Engine)
Goods train driver (The Flying Kipper)
The Shouting Man (Mind that Bike)
Jack's banksman (Jack Jumps In)
Some Passengers (Wrong Road)
Trivia
Ad blocker interference detected!
Wikia is a free-to-use site that makes money from advertising. We have a modified experience for viewers using ad blockers

Wikia is not accessible if you've made further modifications. Remove the custom ad blocker rule(s) and the page will load as expected.