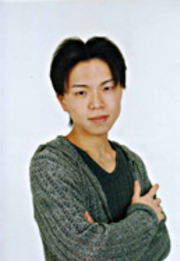 Taisuke Yamamoto (山本泰輔, born July 2nd, 1976 in Hiroshima) is a Japanese voice actor who provided voices in the Japanese narration of Thomas and Friends.
He is best known for voicing Terrance and Damian from "South Park", Katsuyuki from ".hack//Legend Of The Twilight", Nozomu Hikarigaoka from "Daa! Daa! Daa!", Young Iruka Umino and Tobio from "Naruto", various characters from "Sci-Fi Harry", and Takeru Takaish/T.K. from the "Digimon" series.
Voices
Trivia
Both he and Irwin Daayán voiced T.K. from "Digimon Adventure 02" in their respective languages.