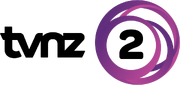 TVNZ 2 is a channel in New Zealand it was made in 1975 but it was Called TV2 and it was renamed.
South Pacific Television in 1976 and then it was Called TV2 Again then it Was Renamed Channel 2 Then.
it Was Called TV2 Again in 1995 Before. in October 2016 it was Renamed TVNZ 2.Thomas and Friends Aired on August 9th - September 10th 2016 But it Came back on October 1st 2016.
Thomas and Friends Aired on Monday to Friday at 6:30 am.
Now it Airs on Saturdays and Sundays at 6:20 am on tvnz 2.
"Welcome to the Steamworks, my friend!"

This article is a stub. You can help by expanding it.
Ad blocker interference detected!
Wikia is a free-to-use site that makes money from advertising. We have a modified experience for viewers using ad blockers

Wikia is not accessible if you've made further modifications. Remove the custom ad blocker rule(s) and the page will load as expected.