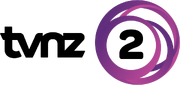 TVNZ 2 is a channel in New Zealand. It was made in 1975 under the name TV2, and was renamed South Pacific Television in 1976, TV2 again in 1995, and TVNZ 2 in October 2016.
In 9 August 2016, episodes of Thomas and Friends started airing on that channel. Initially it aired during the weekdays, but now airs on Saturdays and Sundays.
The second and third seasons of Shining Time Station previously aired on the channel during 1994, which resulted in the VHS releases of Season 3 in New Zealand featuring narration by George Carlin.
"Welcome to the Steamworks, my friend!"

This article is a stub. You can help by expanding it.