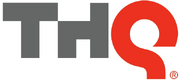 THQ (also known Toy Head Quarters) was an American video game developer and publisher.
Founded in 1989, they were best known for working on third party titles for Nickelodeon and Disney. They also created the "Saints Row" and "Red Faction" series.
THQ published the Super Nintendo and the Sega Genesis/Mega Drive Adventure Series games of Thomas the Tank Engine & Friends in 1993.
A prototype of the Super Nintendo game was developed on the Nintendo Entertainment System. This was never released, however ROMs of the game can be found online.
The company filed for bankruptcy in 2012, and was then defunct a year after. It is unknown who owns the rights for the two Thomas games.
Gallery
Ad blocker interference detected!
Wikia is a free-to-use site that makes money from advertising. We have a modified experience for viewers using ad blockers

Wikia is not accessible if you've made further modifications. Remove the custom ad blocker rule(s) and the page will load as expected.