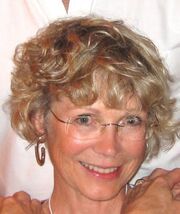 Susan Roman (born in Edmonton, Alberta, Canada, on April 17th, 1957) is a Canadian voice actress who voiced James in Thomas and the Magic Railroad.
She is a widely renowned voice actress in Canada, providing voices in various animes, cartoons and films, such as Scarlett Witch and Callisto from "X-Men: The Animated Series", Champ Bear from  "The Care Bears", Eddie and Sarah Lynn from "Little People", Snowy from "The Adventures of Tintin", various characters from the "Strawberry Shortcake" specials from the 1980's, Angel from "Rock & Rule", Beatrice 'Bea' Bear (Bear's little sister) from "Franklin the Turtle" (on occasions) and Sailor Jupiter/Lita/Makoto from both the DIC and Cloverway dubs of "Sailor Moon".
However, her most notable voice in her acting career goes back to 1987 when she voiced Melissa Raccoon for the hit Canadian show "The Raccoons" created by Kevin Gillis, voicing the character for a record amount of 5 years until the show ended in 1991.
Voices
James (Thomas and the Magic Railroad; final cut)
Trivia
She was hired when test audiences turned down Michael Angelis for sounding too old.
During an interview with SiF, she stated that she originally tried out voicing James as he was her favourite character.
She and Linda Ballantyne worked together along with Salty's Lighthouse voice actress Lenore Zann and voiced characters from "The Avengers: United They Stand".
She, Charles Falzon, Ben Small and David Holt worked on "Harry and His Bucket Full of Dinosaurs".
She, Anna Apostolakis and Salty's Lighthouse voice actors Ian James Corlett and Terry Klassen voiced characters from "Barbie as the Island Princess". Several other voice actors have worked on other Barbie films:
She, Paul Dawson, Dave Ingham, John Gilluley, Michael Carrington, Rob Rackstraw and Keith Wickham all worked on "The Koala Brothers".
She and Shining Time Station actress, Elizabeth Hanna had roles together in "The Raccoons", "Babar" and "Beetlejuice".
She, Linda Ballantyne and Elizabeth Hanna all had roles in "Sailor Moon" and "The Care Bears" film series.
She and Linda Ballantyne both had roles in "Arthur".
She and Lynda Craigmyle both worked on "A Miser Brothers' Christmas".
She, Ballantyne, Hanna, Sarah Williams and Jennifer Hill all worked on "Care Bears: Big Wish Movie".
External links
Ad blocker interference detected!
Wikia is a free-to-use site that makes money from advertising. We have a modified experience for viewers using ad blockers

Wikia is not accessible if you've made further modifications. Remove the custom ad blocker rule(s) and the page will load as expected.