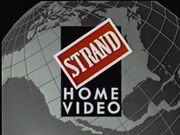 Strand Home Video was a video label which distributed Thomas the Tank Engine and Friends US VHS releases in the early 1990s. In early 1994, the company was acquired by and folded into Video Treasures, though releases continued to use Strand's logo, probably because the master tapes were edited and copyrighted in 1993. The Strand Home Video logo shared the same music as The Video Collection.
Releases
The first five Thomas videos were rereleases with different title fonts, different nameboard sequences and different credits.
Gallery
Ad blocker interference detected!
Wikia is a free-to-use site that makes money from advertising. We have a modified experience for viewers using ad blockers

Wikia is not accessible if you've made further modifications. Remove the custom ad blocker rule(s) and the page will load as expected.