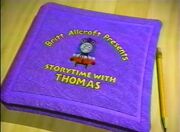 Storytime with Thomas was an American television series that aired Thomas and Friends episodes on Fox Family beginning on 6 September 1999.
Each broadcast consisted of two episodes from the first - fifth seasons with a short music video at the start and one episode of The Magic Adventures of Mumfie in between. The show produced a total of forty episodes before ending in early 2000, when The Britt Allcroft Company changed its name to Gullane Entertainment.
Songs Used
Episodes
Mixed Narrators
Trivia
Live action footage from 10 Years of Thomas was featured in some of the music videos.
At one point during the series, they added a page turning feature during the stories and before and after the intermissions.
Gallery
External links
"Welcome to the Steamworks, my friend!"

This article is a stub. You can help by expanding it.
Ad blocker interference detected!
Wikia is a free-to-use site that makes money from advertising. We have a modified experience for viewers using ad blockers

Wikia is not accessible if you've made further modifications. Remove the custom ad blocker rule(s) and the page will load as expected.