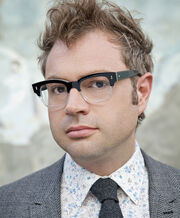 Steven Jay Page (born June 22nd, 1970 in Scarborough, Ontario, Canada) is a Canadian musician who helped with the music of Thomas and the Magic Railroad.
He used to be the founding member of the music group Bakenaked Ladies until he left in 2009. Other albums he did included "The Vanity Project", "A Singer Must Die", and "A Different Sort of Solitude".
Songs
External links
Ad blocker interference detected!
Wikia is a free-to-use site that makes money from advertising. We have a modified experience for viewers using ad blockers

Wikia is not accessible if you've made further modifications. Remove the custom ad blocker rule(s) and the page will load as expected.