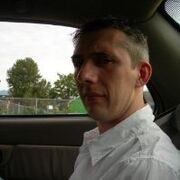 Steven Elford was the CG Supervisor of Thomas and Friends at Nitrogen Studios for all seasons and specials. He also worked as a Layout Supervisor for the twelfth season.
He now works for Rainmaker Entertainmant (previously MainFrame) as Vice President of Creative Technology, working on the new "Bob the Builder" and the "Barbie" films.
Trivia
He, Gadi Levy, Marc Seal, Simon Nicholson, Laura Beaumont, Dan Shatzberg, Paul Larson, Holger Potzern, Simona Pahl, Rob Rackstraw, David Menkin, James Mason, Ross Hastings, Polly Churchill, Achim Schülke, Tobias Diakow, Marjolein Algera, Ernesto Lezama, Øyvind Borgemoen Lyse, Fabian Harloff, Dave Ingham, Nigel Chilvers, Lenora Hume, Lee Pressman, Sam Barlow, Miranda Larson, Stan Limburg, Jens Wendland, Helen Farrall, Lutz Harder, Francisco Colmenero, Steven Kynman, Sharon Miller, Rupert Degas, Lucy Montgomery, Knud Riepen, Eberhard Haar, Robert Kotulla, Ricardo Silva, Louise Kramskoy, Erik Schäffler, Douglas Welbat, Carlos Enrique Bonilla, Katja Brügger, Christian Rudolf, Jürgen Holdorf, Holger Mahlich, Robert Missler and Ian James Corlett have all worked on "Bob the Builder".
External Link
"Welcome to the Steamworks, my friend!"

This article is a stub. You can help by expanding it.
Ad blocker interference detected!
Wikia is a free-to-use site that makes money from advertising. We have a modified experience for viewers using ad blockers

Wikia is not accessible if you've made further modifications. Remove the custom ad blocker rule(s) and the page will load as expected.