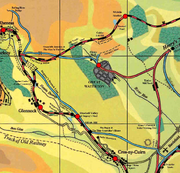 Stepney's Branch Line runs from north of Crovan's Gate to Great Waterton. Due to a vast amount of Bluebell flowers beside the tracks, the line is nicknamed "Bluebell Railway".
Engines
Stepney and possibly Flora currently are the only locomotives to work on this line, however Thomas has been seen travelling up and down it numerous times and other North Western Railway engines sometimes use this line to get to Great Waterton instead of using the Main Line.
Stations
The line begins northeast of Crovan's Gate, at the Transfer Yards on the Norramby Branch Line and travels up to The Depot and Mr. Percival's House, where it runs next to the Skarloey Railway until it splits at Bluebell Valley Station. The two lines reconverge to go through two parallel tunnels, before the branch line splits up at a junction with one line going to the Rolling River Bridge and the other running past Green Hills Junction until the line finally stops at Great Waterton.
Appearances
It first appeared in the fourth season and has also appeared in the fifth, seventh, ninth, twelfth, sixteenth, eighteenth and nineteenth seasons, as well as The Great Discovery and The Tortoise and the Hare.
Trivia
The branch line is loosely based on the Bluebell Railway.
Other name of this branch line is Bluebell Branch Line
The Engines
---
* RWS only | ** T&F only | --- Dropped
Ad blocker interference detected!
Wikia is a free-to-use site that makes money from advertising. We have a modified experience for viewers using ad blockers

Wikia is not accessible if you've made further modifications. Remove the custom ad blocker rule(s) and the page will load as expected.