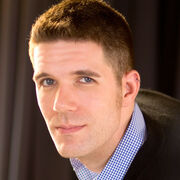 Stephen A. Gallop was the Senior Vice-President of Production. He overseen all aspects of the studio's varied projects in production. He joined Arc Productions in 2007 and left in 2016. His position of "Senior Vice-President of Production" was dropped and replaced with "Executive Vice-President of Production" with Marianne Culbert taking that position.
He is credited as an executive producer for Arc Productions a portion the seventeenth season, The Adventure Begins, Sodor's Legend of the Lost Treasure and the nineteenth season alongside Kallan Kagan.
External Link
Ad blocker interference detected!
Wikia is a free-to-use site that makes money from advertising. We have a modified experience for viewers using ad blockers

Wikia is not accessible if you've made further modifications. Remove the custom ad blocker rule(s) and the page will load as expected.