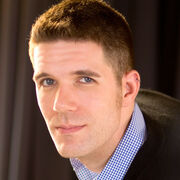 Stephen A. Gallop was the Senior Vice-President of Production at Arc Productions. He overseen all aspects of the studio's varied projects in production. He joined Arc Productions in 2007 and left in March 2015. His position of "Senior Vice-President of Production" was dropped and replaced with "Executive Vice-President of Production" with Marianne Culbert taking that position.
He was an executive producer at Arc Productions for a portion the seventeenth season, the eighteenth season, The Adventure Begins, Sodor's Legend of the Lost Treasure and the nineteenth season alongside Kallan Kagan. He was also head of production for Tale of the Brave and vp of production for King of the Railway.
He also worked in Arc's finance department as production finance manager and director of finance from February 2007 to January 2012.
External Link
Ad blocker interference detected!
Wikia is a free-to-use site that makes money from advertising. We have a modified experience for viewers using ad blockers

Wikia is not accessible if you've made further modifications. Remove the custom ad blocker rule(s) and the page will load as expected.