Stephen's Coaches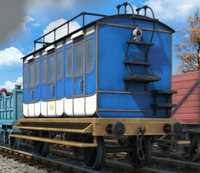 Stephen's Coaches are coaches belonging to Stephen. One briefly appears in King of the Railway behind the Open-Topped Carriage and one is used by Stephen in The Afternoon Tea Express. Three were also pulled by James in The Thomas Way and one by Diesel in Wild Water Rescue.
Basis
The coaches are based on the roofed carriages from the Liverpool and Manchester Railway. Two of them, replicas, now work with the Stephenson's Rocket replica at the National Railway Museum.
Livery
The coaches are painted in dark blue and cream with gold lining and has Sir Robert Norramby's crest on its side. The wheels are black with blue lining. 
Appearances
Specials:
Merchandise
Gallery
Merchandise Gallery