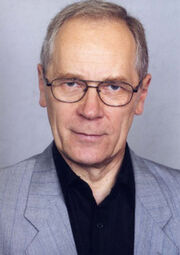 Stefan Knothe (born 1943) is the narrator of Thomas and Friends in Poland. He has narrated the series since 1998.
He is best known for voicing Bert from "Sesame Street", Woo the Wise from "Hero:108", Ambassador Mbolắ from "Robotboy, Skeleton King from "Super Robot Monkey Team Hyperforce Go!", Dan Anchorman and Katie Ka-Boom's father from "Animaniacs", Grandada Shay from "iCarly", Daffy Duck from "Looney Tunes", and Jake from "Adventure Time".
Trivia
Both he and Grzegorz Drojewski voice the main characters from "Adventure Time".
Both he and Salty's Lighthouse voice actor Paul Dobson voiced Sensei Wu from "Lego Ninjago: Masters of Spinjitzu" in their respective languages.
He is currently the longest serving non English narrator.
Both he and Rupert Degas voiced Ambassador Mbolắ from Robotboy in their respective languages.
Both he and José Arenas voice Jake from "Adventure Time" in their respective languages.
He, Lupita Leal, Adrian Perdjon, Gaute Boris Skjegstad and Jon Erling Wevling all voiced characters in iCarly.
He, Albert Cohen, Eduardo Garza, Marjolein Algera, Fabian Harloff, Robert Missler, Nadine Schreier, Janusz Zadura, Denise Cassar, Mark Skillicorn, Petri Hanttu, Angela Quast, Dagmar Dreke, Dov Reiser, Louise Raeder, Fred Meijer, Ricardo Mendoza, Beata Wyrąbkiewicz, Gadi Levy, Manfred Steffen and Alec Baldwin have all worked on "Sesame Street".
Ad blocker interference detected!
Wikia is a free-to-use site that makes money from advertising. We have a modified experience for viewers using ad blockers

Wikia is not accessible if you've made further modifications. Remove the custom ad blocker rule(s) and the page will load as expected.