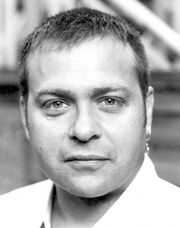 Stefan Ashton Frank is an American voice actor and singer. He is best known for voicing in the video game "Blade", various characters from "The Amazing World of Gumball" and Speedy in the US version of "Chuggington". He also does narration voiceovers for various commercials and television, including Channel 4 and "Robot Wars"
Songs
Filmography
Film

Kaena: The Prophecy (2003)
Churchill: The Hollywood Years (2004)

TV

Robot Wars (1997)
This is Dom Joly (2003)
Planet Cook (2004)
BB3B (2005)
The Message (2006)
Dork Hunters from Outer Space (2008)
No Signal (2009)
Chuggington (2010-2015)
The Amazing World of Gumball (2012-present)
Manhunt: Kill or Capture (2015)

 

Video Games

Martian Gothic: Unification (2000)
Driver 2 (2000)
Blade (2000)
Gothic (2001)
Prisoner of War (2002)
Simple 2000 Series, Vol. 16: The Sniper 2 (2002)
Advance Wars 2: Black Hole Rising (2003)
Scared (2004)
Scared Underworld (2005)
Advance Wars: Dual Strike (2005)
Battalion Wars (2005)
Vietcong 2 (2005)
24: The Game (2005)
Miami Vice: The Game (2006)
Call of Duty 3 (2006)
The Club (2008)
Haze (2008)
Battlefield: Bad Company (2008)
Need for Speed: Hot Pursuit (2010)
Holy Night! (2011)
Company of Heroes 2 (2013)
Need for Speed: Rivals (2013)
Need for Speed: Rivals (2013)
Transformers Universe (2014)
Sacred 3 (2014)
Trivia
External links
Ad blocker interference detected!
Wikia is a free-to-use site that makes money from advertising. We have a modified experience for viewers using ad blockers

Wikia is not accessible if you've made further modifications. Remove the custom ad blocker rule(s) and the page will load as expected.