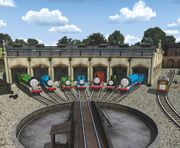 The "Steam Team" is a group consisting of the eight core characters of the "New Series", first implemented in the eighth season. The group consists of Thomas, Edward, Henry, Gordon, James, Percy, Toby, and Emily. Stanley was briefly part of the Steam Team in The Great Discovery
Trivia
Emily is currently the only female member.
Toby is the only member of the Steam Team who does not have a berth at Tidmouth Sheds.
According to SiF's interview with Sam Barlow, Duck was going to be part of the Steam Team. However, the crew had to make room for Emily in order for a female character to have a more prominent role.
Gallery
See also