This article is about the steam boat. You may be looking for the paddle boat.
Steam Boat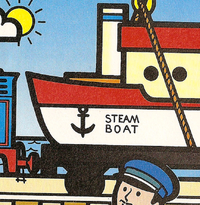 Steam Boat is the name of an old steam boat that only appeared the magazine story, Thomas' Bell.
Thomas was asked to deliver the steam boat to the Museum of Ships. Thomas' driver was a big fan of boats, so the steam boat's owner gave him an old ship's bell. The bell was attached to Thomas' cab, and he used the bell for the museum's opening day.