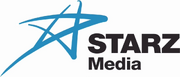 Starz Distribution (previously IDT Entertainment and Starz Media) is the motion picture, animation, television, and home video operating unit of Lionsgate. Starz Distribution develops, produces, and acquires original programming content (Starz and AMC), feature films (Anchor Bay Films), anime (Manga Entertainment) and other filmed entertainment. Distribution methods include DVD, digital formats and traditional television.[1]
It was founded in 1991 in Burbank as Encore Media Group. They release films and television shows, such as "Eloise", the "Space Chimps" series,  "Everyone's Hero", "Lower Learning", animes from Manga Entertainment, "The Happy Elf", and "Wow Wow Wubbzy". They also aired the fourth season of the Doctor Who spinoff "Torchwood".
They are the current owners of Anchor Bay Entertainment and former owners of Arc Productions.
Trivia
External link
Official Website

"Welcome to the Steamworks, my friend!"

This article is a stub. You can help by expanding it.


Cite error: <ref> tags exist, but no <references/> tag was found
Ad blocker interference detected!
Wikia is a free-to-use site that makes money from advertising. We have a modified experience for viewers using ad blockers

Wikia is not accessible if you've made further modifications. Remove the custom ad blocker rule(s) and the page will load as expected.