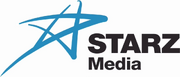 Starz Media is the motion picture, animation, television, and home video operating distributor.
It was founded in 1991 in Burbank as Encore Media Group. They release films and television shows, such as "Eloise", the "Space Chimps" series,  "Everyone's Hero", "Lower Learning", animes from Manga Entertainment, "The Happy Elf", and "Wow Wow Wubbzy". They also aired the fourth season of the Doctor Who spinoff "Torchwood".
They are the current owners of Anchor Bay Entertainment and former owners of Arc Productions.
Trivia
External link