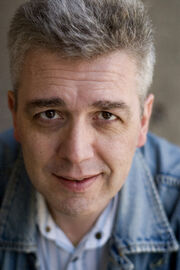 Cristiaan Willem Hendrik "Stan" Limburg (born Purmerend, April 20th, 1961) is a Dutch actor, stage actor and voice actor who provides voices for the Dutch version of Thomas & Friends.
He is primarily known for providing his voice for cartoons with a very sprightly tone of voice. Some of his best known roles include Goofy from Disney, Lenny from "Fanboy and Chum Chum", various characters from "The Smurfs", and Fast Tony from "Ice Age: The Meltdown". Other credits include "Fireman Sam", "Bob the Builder", "Toy Story", "Monsters, Inc.", "Inazuma Eleven", and "Teletubbies".
Voices
Songs
Trivia
Ad blocker interference detected!
Wikia is a free-to-use site that makes money from advertising. We have a modified experience for viewers using ad blockers

Wikia is not accessible if you've made further modifications. Remove the custom ad blocker rule(s) and the page will load as expected.