Stacy Jones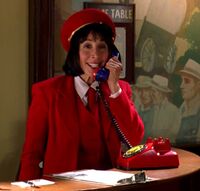 Stacy Jones is the manager of Shining Time Station.
Persona
Stacy Jones is a kind and caring lady with a passion for what she does.
Appearances
Stacy appeared in Shining Time Station and Thomas and the Magic Railroad.
Actresses
Trivia
While she does not do much in the final film, she had a much larger role in the original cut, as she and Billy Twofeathers try to figure out why Shining Time is beginning to decay after the gold dust's disappearance and P.T. Boomer's arrival.
Gallery
See Also
Shining Time Station Wiki
Please visit the Shining Time Station wiki, based on the spin-off series of Thomas and Friends.