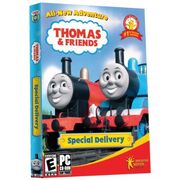 Special Delivery is a PC game made by Focus Multimedia in 2006 for the UK and later released by Brighter Minds Media for the US in 2007. It was narrated by Robin Smith in the US.
Plot
James is asked to make a very special delivery to the zoo when some new animals arrive at Brendam Docks. But James gets lost along the way and Sir Topham Hatt sends a search party to look for him. It's up to the player help Thomas and all his friends find James and get the animals to the zoo on time.
Characters
Goofs
In the US release, the narrator mispronounces Brendam as Brendan in the opening.
Gallery