"Wishing trees don't run railways. That's my job!"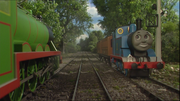 The Sodor Wishing Tree is said to be the oldest tree on Sodor, even older than Edward, Sir Handel and Sir Topham Hatt. It is said that it grants wishes to those who make a wish on it. Once it was struck by lightning but fortunately Henry saved it with the help of some tree specialists.
Henry has a special fondness for this tree.
Gallery
Ad blocker interference detected!
Wikia is a free-to-use site that makes money from advertising. We have a modified experience for viewers using ad blockers

Wikia is not accessible if you've made further modifications. Remove the custom ad blocker rule(s) and the page will load as expected.