Sodor Search and Rescue Centre
Comments

0
5,558pages on
this wiki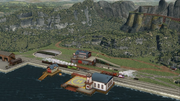 The Sodor Search and Rescue Centre is the home of Harold, Rocky, Captain, Butch, Belle, and Flynn. It is located along the coast south of Maron and east of Suddery.
It has a landing pad for Harold, a shed for Rocky, Flynn, and Belle, another shed for Butch, and a dock for Captain.
Belle and Flynn officially joined the team in the Day of the Diesels; though they appeared in the fifteenth season first.
Trivia
Merchandise
Gallery
Merchandise Gallery