This article is about 'the Sodor Railway Museum'. You may be looking for 'the Sodor Museum'.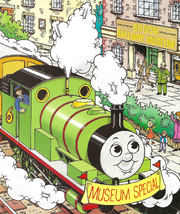 The Sodor Railway Museum was built when the Fat Controller had the idea to increase the number of visitors that come to Sodor. Unfortunately, the museum was not very successful until Thomas had an accident which involved him crashing into the museum. Crowds gathered to see the commotion and the museum was full of people. The museum is said to be home to some old locomotives and some pieces of rolling stock. Percy once ran a "Museum Special" that took visitors to the museum. Although unconfirmed, the museum now appears to have full-scale models of Thomas and James. It appeared in the 2007 magazine story, Sleepy Sam and the 2012 magazine story, Museum Mayhem.
Gallery
Ad blocker interference detected!
Wikia is a free-to-use site that makes money from advertising. We have a modified experience for viewers using ad blockers

Wikia is not accessible if you've made further modifications. Remove the custom ad blocker rule(s) and the page will load as expected.