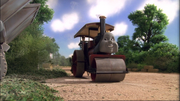 The Sodor Racetrack is located close by to Stepney's Branch Line. It only appeared in The Pack episode The Tortoise and the Hare. Buster was once brought here to smooth the track and won a race against Max and Monty.
There was a bull outside the track, which frightened both Max and Monty after they crashed the barriers.
Gallery
Ad blocker interference detected!
Wikia is a free-to-use site that makes money from advertising. We have a modified experience for viewers using ad blockers

Wikia is not accessible if you've made further modifications. Remove the custom ad blocker rule(s) and the page will load as expected.