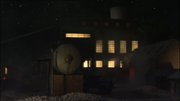 The Sodor Power Station is responsible for producing all of the electricity on the Island of Sodor, it was only seen in the tenth season episode, Thomas and the Shooting Star.
In the magazines, Little Barford runs on a narrow gauge line near the power station. Murdoch once had to deliver coal there when the power station ran out causing a blackout in the 2004 magazine story, Blackout!
The Sodor Power Station is situated on the Peel Godred Branch Line, near the Aluminium Works.
Merchandise
Gallery