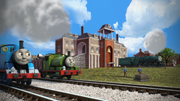 The Sodor Museum is a museum containing Sudrian artifacts. It was opened to the public in the ninth season episode Toby Feels Left Out and was mentioned in Rheneas and the Dinosaur. The museum is also mentioned in a story featured in issues of Sodor Times in the seventeenth season episode, Henry's Hero and the eighteenth season episode, Duncan and the Grumpy Passenger. It also appears in the book Sam and the Great Bell. It also appears briefly in the promotional video A Friendly Farewell.
It is unknown where the museum is located.
Merchandise
Gallery
"Welcome to the Steamworks, my friend!"

This article is a stub. You can help by expanding it.
Ad blocker interference detected!
Wikia is a free-to-use site that makes money from advertising. We have a modified experience for viewers using ad blockers

Wikia is not accessible if you've made further modifications. Remove the custom ad blocker rule(s) and the page will load as expected.