Sodor Harbor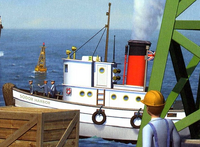 Sodor Harbor is a tug boat at Brendam Docks. It appears in the Tale of the Brave book.
Livery
The boat is white with a red and black funnel. It flies the Union Jack.
Trivia
Despite flying the Union Jack, the national flag of Great Britain, the boat uses the American spelling of the word "harbour".