Sodor Food and Drink Van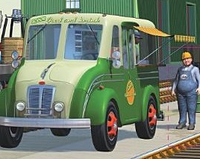 The Sodor Food and Drink Van visits different locations, including Brendam Docks, on the Island of Sodor selling refreshments to workmen.
The van has only been seen in the 2013 book, Busy, Busy Thomas.
Basis
The food and drink van is based on a 1949 Divco 49N Delivery Van. The van is primarily coloured two different shades of green.
Gallery