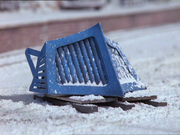 Snowploughs (spelled snowplow in America) are devices used by the engines to clear snow from the tracks as they pull their trains during winter. They are usually fastened onto the engine's front buffers, and push snow aside when the engines charge through the snow blocking the line. Most snowploughs are painted in the colour corresponding to their engine's livery.
Some engines are known to hate their snowploughs and find them uncomfortable, such as the case with Thomas.
Trivia
Toby was only seen wearing a snowplough in the Railway Series.
Duck's snowplough used to share the same design as Donald and Douglas' original snowploughs. Starting from the eighteenth season, he wore a snowplough the same design as Thomas'.
In the sixth season episode, It's Only Snow and the Railway Series book Thomas's Christmas Party, Thomas wore a different snowplough than his usual blue one.
Since the ninth season, all the engines except Thomas had silver snowploughs, with the sides of the snowploughs painted in the same livery as the engine who wore them.
Starting with the seventeenth season, all of the engines' snowploughs were painted in the liveries corresponding to them and are based on the design of Thomas' snowplough, excluding Victor's, Donald's, Douglas', Henry's, Gordon's, James', and Emily's. In the merchandise ranges, excluding the Donald and Douglas Snowplough set from Motor Road and Rail, all the engines' snowploughs are based on the design of Thomas' snowplough.
To date, Victor is the only narrow gauge engine to wear a snowplough.
Starting with the twentieth season, Donald and Douglas' snowploughs are the same designs as Emily's, as is Spencer's in the twenty-first season.
Most of the snowploughs in the merchandise ranges are not removable.
Starting in Big World! Big Adventures! and/or the twenty-second season, Yong Bao gains a snowplow that share the same design's as Gordon and Henry's.
Merchandise