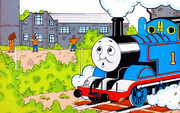 Smokey Joe was the name given to a very tall chimney at an old factory located near the railway line. Smokey Joe was knocked down, but the demolition went wrong and the large chimney ended up falling on George who was working nearby. George was preparing for building work so it is possible that the whole factory would have been demolished to make way for new buildings although this was not confirmed.
Smokey Joe only appeared in the 1998 magazine story of the same name.
"Welcome to the Steamworks, my friend!"

This article is a stub. You can help by expanding it.
Ad blocker interference detected!
Wikia is a free-to-use site that makes money from advertising. We have a modified experience for viewers using ad blockers

Wikia is not accessible if you've made further modifications. Remove the custom ad blocker rule(s) and the page will load as expected.