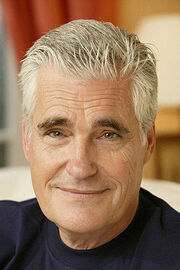 Sky du Mont (born on May 20th, 1947 in Buenos Aires, Argentina) is a German-Argentine actor. He is best known for appearing in movies such as "Eyes Wide Shut" and "Der Schuh des Manitu". He is also known for appearing in the German crime drama "Derrick". He also does voiceover work for commercials.
He is the German narrator of Thomas & Friends from the eighth season onwards. He began in 2006.
Trivia
He appeared in the television miniseries "War and Remembrance" with John Gielgud.
He is the second longest serving storyteller behind Michael Angelis.
He, Holger Mahlich, Thomas Fritsch, Dirk Bach, Patrick Bach, Robin Brosch, Sascha Draeger, Konstantin Graudus, Eberhard Haar, Fabian Harloff, Lutz Herkenrath, Till Huster, Henry König, Helmut Krauss, Martin May, Tetje Mierendorf, Robert Missler, Renate Pichler, Christian Rudolf, Tobias Schmidt, Rainer Schmitt, Achim Schülke, Christian Stark, Bernd Stephan, Manfred Steffen, Marion von Stengel, Peter Weis and Santiago Ziesmer all had roles in "The Three Investigators".
External link
"Welcome to the Steamworks, my friend!"

This article is a stub. You can help by expanding it.
Ad blocker interference detected!
Wikia is a free-to-use site that makes money from advertising. We have a modified experience for viewers using ad blockers

Wikia is not accessible if you've made further modifications. Remove the custom ad blocker rule(s) and the page will load as expected.