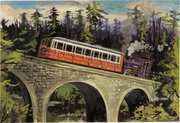 Skarloey Road
, also known as
Halfway
, is a station on the
Culdee Fell Railway
at the base of
the mountain
right below
Devil's Back
.
Having skimmed Poll-ny-Chrink, the line has to climb sharply in order to surmount the wooded ridge out of which the road to Skarloey was cut. A ten-arched viaduct was necessary to put up in the gap and reach the site selected for the station. This viaduct was the most difficult rival engineering feature of the whole line and passing its completion, the connection of the upper section had to be delayed for some eight to nine months.
The station at Halfway is an important one. In addition to being the main passing place for Up and Down trains, it caters for passengers brought here by Sodor Roadways' coaches. In contrast to Shiloh and Devil's Back it boasts a Booking Office and refreshment room which is staffed by two workers and at the height of the season, three.
The passing loop is provided together with a 10,000 gallon water tank fed by a gripe from the source of the mountain stream. It is the last available watering place for engines on their upward journey.
Travellers have a choice here. They can reach the Summit by train or on foot. Alternatively they can follow the centuries old ancient path to St. Machan's Cave.
The view from the station is the same as that from Shiloh, but with the advantage of a wider prospect thanks to its greater height. The immediate surroundings have a grimmer aspect. There are many sheep here, but the grass and vegetation disappears the higher the line goes.
It is labelled as "Halfway" on the 2014 Television series map.
Ad blocker interference detected!
Wikia is a free-to-use site that makes money from advertising. We have a modified experience for viewers using ad blockers

Wikia is not accessible if you've made further modifications. Remove the custom ad blocker rule(s) and the page will load as expected.