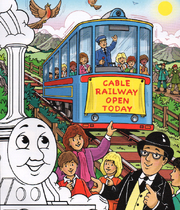 There is a funicular railway at Skarloey that runs from the station to the village. Opened in September of 1985, it was built for the convenience of residents and visitors. It is a joint venture between the hotel keepers of Skarloey village and Skarloey Railway Company. The railway undertook the construction and holds 51% of the shares while the hotels hold the remaining 49%.
Being a funicular railway, there are two tram-like carriages that run in opposite directions up and down the incline.
It was only mentioned in The Island of Sodor: Its People, History and Railways.
Trivia
Ad blocker interference detected!
Wikia is a free-to-use site that makes money from advertising. We have a modified experience for viewers using ad blockers

Wikia is not accessible if you've made further modifications. Remove the custom ad blocker rule(s) and the page will load as expected.