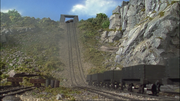 The Skarloey Coal Yard, also known as The Coal Mine, is where the engines on the Skarloey Railway go to collect coal. The coal is transported by a winch, similar to the Slate Quarry.
It appeared in the ninth, tenth and twelfth seasons.
It is located near The Man in the Hills, in between Rheneas Tunnel and Green Hills Junction.
Trivia
The coal yard is actually a redress of the Slate Quarry.
Some of the buildings for the mine section were reused from the Maithwaite Quarry Mine.
Ad blocker interference detected!
Wikia is a free-to-use site that makes money from advertising. We have a modified experience for viewers using ad blockers

Wikia is not accessible if you've made further modifications. Remove the custom ad blocker rule(s) and the page will load as expected.