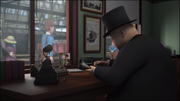 Sir Topham Hatt has an office where he usually works when he is not busy talking to the engines or planning events, located in Knapford Station. This is also where he receives messages from the stationmaster and other people about his engines whenever they are in trouble or need to talk to him. It was first introduced in the first season and has been seen since. It also appeared in the PC games.
In the Railway Series, the office is located at Tidmouth Station, the headquarters of the North Western Railway, although another one was seen at Vicarstown, the previous headquarters, in Gordon the Big Engine.
In the nineteenth season, the office was being redecorated, though Percy accidentally thought this meant Sir Topham Hatt was leaving the railway.
Once, Sailor John broke into the office and used a stick of dynamite to open the safe and steal the box of treasure.
Trivia
Sir Topham Hatt's Office has had numerous modifications throughout the years:
Portraits of Lady Hatt and Dowager Hatt have also been seen.
Merchandise
Ad blocker interference detected!
Wikia is a free-to-use site that makes money from advertising. We have a modified experience for viewers using ad blockers

Wikia is not accessible if you've made further modifications. Remove the custom ad blocker rule(s) and the page will load as expected.