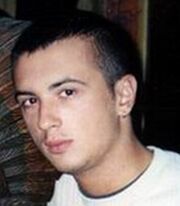 Simone Crisari (born August 30th, 1981 in Rome) is an Italian actor, who has provided voices for characters in the Italian dubs of many different films and television shows ever since he was a boy.
He is most famous for voicing Carlos Lopez from "Transformers Armada" and "Energon", Simon from the "Alvin and the Chipmuks" film series, Yang from "Yin Yang Yo!", Dongwa from "Sagwa, the Chinese Siamese Cat", DJ from the "Total Drama" series, Itsuki Takeuchi from "Initial D", Max Goof from Disney, and Jet from "Avatar: The Last Airbender".
He is also the official voiceover for Jonah Hill.
Voices
Trivia
Ad blocker interference detected!
Wikia is a free-to-use site that makes money from advertising. We have a modified experience for viewers using ad blockers

Wikia is not accessible if you've made further modifications. Remove the custom ad blocker rule(s) and the page will load as expected.