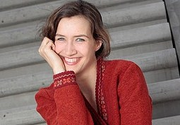 Simona Pahl (born 1978) is a German actress and voice actress who provided voices for the German dub of Thomas and Friends.
She is best known for voicing Wilson from "Chuggington", Penny from the CGI Series of "Fireman Sam", Belinda Bannister from "The Dog Who Saved Christmas", Bella from "H2O; Just Add Water", Gayle from "Bob's Burgers", Harley Quinn from "DC Super Hero Girls", and Kotohime Fuuma from "Naruto". Other credits include the German dubs of "Rupert Bear", "Bob the Builder", and many others.
Voices
Trivia
She, Gadi Levy, Marc Seal, Simon Nicholson, Laura Beaumont, Dan Shatzberg, Paul Larson, Holger Potzern, Steven Elford, Rob Rackstraw, David Menkin, James Mason, Ross Hastings, Polly Churchill, Achim Schülke, Tobias Diakow, Marjolein Algera, Ernesto Lezama, Øyvind Borgemoen Lyse, Fabian Harloff, Dave Ingham, José Gilberto Vilchis, Nigel Chilvers, Lenora Hume, Lee Pressman, Sam Barlow, Miranda Larson, Stan Limburg, Jens Wendland, Helen Farrall, Lutz Harder, Francisco Colmenero, Steven Kynman, Sharon Miller, Rupert Degas, Lucy Montgomery, Knud Riepen, Eberhard Haar, Robert Kotulla, Ricardo Silva, Louise Kramskoy, Erik Schäffler, Douglas Welbat, Carlos Enrique Bonilla, Katja Brügger, Christian Rudolf, Jürgen Holdorf, Holger Mahlich, Robert Missler and Ian James Corlett have all worked on "Bob the Builder".
He, Albert Cohen, Marion Edwards, Ian McCue, Christopher Keenan, Erica Welch, Andrew Defty, Karen Davies, Thomas Holborow, Steven Kynman, Christopher Skala, Michelle Rodda, Jan Page, Lee Pressman, Helen Farrall, John Hasler, Ross Hastings, Laura Beaumont, Paul Larson, Miranda Larson, Karen Davidsen, Karen Barnes, Lenora Hume, Sam Barlow, Andrew Brenner, Dave Ingham, Simon Nicholson, Jocelyn Stevenson, Sharon Quick, Pete Atkin, Fiona Hardwick, Lorna Withrington, Finn Poncin, Lizzie Ennever, Prokhor Chekhovskoy, Oliver Böttcher, Oliver Davis, Łukasz Talik, Samuel Harjanne, Nir Ron, Stan Limburg, Mia Kadosh, Petri Hanttu, Gadi Levy, Robert Hartshorne, Arlyn Bantog, Tim Bain, Benjamin Morik, Achim Schülke and Ole Jacobsen have all worked on "Fireman Sam".
She, Adrian Perdjon, Joanna Pach-Żbikowska, Celine Fontanges, Katja Brügger, Sonja Stein, Kristina von Weltzien, Tobias Schmidt, Rainer Schmitt, Holger Mahlich, Achim Buch, Erik Schäffler, Anne Moll, Robert Missler, Christian Stark and Nils Rieke have all worked on "H2O: Just Add Water".
External links
"Welcome to the Steamworks, my friend!"

This article is a stub. You can help by expanding it.