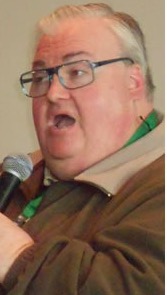 Simon Fisher-Becker (born November 25th, 1961 in Ruislip) is an English television and stage actor. He is best known for playing Dorium Maldovar from "Doctor Who" and The Fat Friar from "Harry Potter".
He played The Fat Controller for Nick Jr's Live Road Show in 2002.
Filmography
Film
Arrivederci Millwall (1990)
Arrivederci Roma (1990)
Beg! (1994)
Sweet Thing (1999)
Harry Potter and the Philosopher's Stone (2001)
The Tale of the Three Spaptors (2008)
Chakan the Forever Man (2012)
Rise of the Euphonious Angel (2012)
Les Misérables (2012)
Pundemic (2015)
Tale of a Timelord (2016)
Carnage: Swallowing the Past (2017)
Coveted Desire (2017)
Dark Ascension (2017)
Indie Film (2018)

TV

An Ungentlemanly Act (1992)
One Foot in the Grave (1993)
99-1 (1994)
Doctors (2001)
Love Soup (2005)
Afterlife (2006)
Doctor Who (2010-2011)
Getting On (2012)
3some (2013)
Vicious (2013)
Puppy Love (2014)
Waterside (2013-2018)
Trivia
He worked with Maggie Ollerenshaw and Jonathan Forbes on the Doctor Who Big Finish audio drama "Emancipation". Andrew Sachs and Tracy-Ann Oberman also worked on two separate audio dramas. He, along with John Hurt, Olivia Colman, Kerry Shale, Glenn Wrage, Michael Brandon, Tom Stourton, Martin Sherman, Nigel Plaskitt, Miranda Raison, John Ogwen, John Schwab, Tracy-Ann Oberman and Hugh Bonneville have all had roles in "Doctor Who". Togo Igawa also had a role in one of it's spin-offs "Torchwood". Diego Brizzi, Tesshō Genda and Dariusz Odija also did dubbings for the show.
He, Robert Wilfort, Rolando de Castro, Claes Ljungmark, Leyla Rangel, Ruth Toscano, Nathan Clarke, César Izaguirre, César Árias, Katsuji Mori, Yigal Mizrachi, Hideyuki Umezu, José Luis Orozco, Jesse Grimm, Aryeh Cherner, Zuzanna Galia, Ángel Amorós, Tokuyoshi Kawashima, Octavio Rojas, Scott Maurstad, John Hurt, Humberto Vélez, Jorge Santos, Irwin Daayán, Masashi Ebara, Blas García, Dov Reiser, Albert Cohen, Hadar Shachaf Ma'ayan, Zvika Schwartzberg, Jamie Campbell Bower, Thomas Fritsch, Norma Iturbe and Rob Rackstraw have all starred in the "Harry Potter" films. Angela Kyriacou and Eddie Redmayne also had roles in it's prequel "Fantastic Beasts and Where To Find Them".
External links
"Welcome to the Steamworks, my friend!"

This article is a stub. You can help by expanding it.