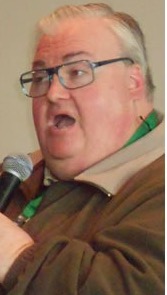 Simon Fisher-Becker (born November 25th, 1961 in Ruislip) is an English television and stage actor. He is best known for playing Dorium Maldovar from "Doctor Who" and The Fat Friar from "Harry Potter".
He played The Fat Controller for Nick Jr's Live Road Show in 2002.
Trivia
He worked with Maggie Ollerenshaw and Jonathan Forbes on the Doctor Who Big Finish audio drama "Emancipation". He, along with John Hurt, Olivia Colman, Kerry Shale, Glenn Wrage, Michael Brandon, Tom Stourton, Martin Sherman, Nigel Plaskitt, Miranda Raison, John Ogwen, John Schwab and Tracy-Ann Oberman have all had roles in "Doctor Who". Togo Igawa also had a role in one of it's spin-offs "Torchwood". Diego Brizzi, Tesshō Genda and Dariusz Odija also did dubbings for the show.
He, Robert Wilfort, Nathan Clarke, John Hurt and Jamie Campbell Bower have all had roles in the Harry Potter film series. Eddie Redmayne also has a role in its prequel trilogy film series.
External links
Ad blocker interference detected!
Wikia is a free-to-use site that makes money from advertising. We have a modified experience for viewers using ad blockers

Wikia is not accessible if you've made further modifications. Remove the custom ad blocker rule(s) and the page will load as expected.