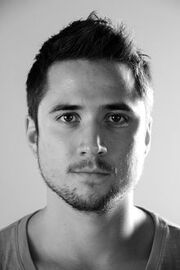 Sigbjørn Solheim (born August 4th, 1990) is a Norwegian actor who provided voices for several characters in the Norwegian narration of Thomas & Friends.
He also provides voices for other shows, such as Stewart Jackson from "Hannah Montana", Arnold from "Hey Arnold!", Ben Tennyson from "Ben 10", Dipper Pines from "Gravity Falls", the title character in "Kick Buttowski", Mako from "The Legend of Korra", and Danny Fenton from "Danny Phantom". He also provides voices in "Ratchet & Clank: Full Frontal Assault" and "QForce", and is the current announcer on Disney XD.
He stepped down as voice actor from the show after the seventeenth season.
Voices
Trivia
"Welcome to the Steamworks, my friend!"

This article is a stub. You can help by expanding it.
Ad blocker interference detected!
Wikia is a free-to-use site that makes money from advertising. We have a modified experience for viewers using ad blockers

Wikia is not accessible if you've made further modifications. Remove the custom ad blocker rule(s) and the page will load as expected.