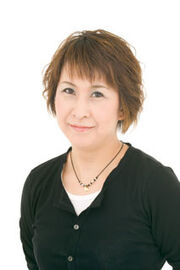 Shinobu Adachi (born April 7, 1958 in Tokyo) is a Japanese voice actress who provided voices from the Japanese version of Thomas and Friends.
She is best known for voicing Rachel Green from "Friends", Todd Flanders from "The Simpsons", Janine Melnitz from "The Real Ghostbusters", Drizella Tremaine from the "Disney's Cinderella" series, Bobbie from the  "Open Season" films, and Jean Grey from "X-Men: The Animated Series"
Voices
Trivia
She, along with Ryō Horikawa, Naoki Tatsuta and Chie Kōjiro voiced together in "Bugg tte Honey".
She, along with Masashi Ebara and Rokurō Naya voiced together in "X-Men: The Animated Series".
She, Radovan Vaculík, Ringo Starr, Carlos Enrique Bonilla, Jorge Ornelas, Enzo Avolio, Víctor Delgado, Bohuslav Kalva, Daiki Nakamura, Aku Laitinen, Marjolein Algera, Jukka Voutilaninen, Pasi Ruohonen, Loretta Santini, Olga Hnidey, Don Nemitz, Bin Shimada, Reinder van der Naalt, Ángel Amorós, Gerardo Reyero, Luis Alfonso Padilla, Octavio Rojas, Louise Raeder, Humberto Vélez, Hadar Shachaf Ma'ayan, Chie Kōjiro, Samuel Harjanne, Keiko Toda, Pierce Brosnan, George Carlin, Alec Baldwin, Nicolás Frías and Kari Tamminen all worked on "The Simpsons".